AWeber is a popular email marketing tool used by bloggers, entrepreneurs, and businesses to automate and manage email lists, send out newsletters, and follow up with their subscribers.
In this post, we'll look at what this tool can do for bloggers – those running individual or company blogs. As a rule, we look to match needs with solutions, so let's see what AWeber can do for bloggers and how it compares with similar tools.
For transparency, we are AWeber affiliates and have used this tool.
The Blog Magazine is supported by its audience. When you purchase through links on our site, we may earn an affiliate commission. Full Affiliate Disclosure.
---
What Do You Need From An E-Mail Marketing Tool?
Before proceeding, think for a moment about what you need or want from a mailing list tool. And what you might require as your audience grows in the future.
We've made a list of potential requirements, and we'll see if or how Aweber meets them. Of course, your needs may vary.
If you think we've missed anything worth including, then drop a note in the comments box at the bottom of the post.
---
Aweber Plans and Terms Of Use
How much does AWeber Cost?
AWeber offers a Free Plan (for up to 500 subscribers) and a paid Pro Plan. The Pro Plan pricing is dependent on the number of subscribers you have. At the time of writing (March 2021), the Pro Plans start from $16.15 per month.

Click here to check the the latest AWeber pricing.
What Billing Cycles Are Available?
You can choose to pay for a Pro Plan on a monthly, quarterly, or yearly basis. The longer you commit, the better the price will be.
The cost of the Pro Plan versions of the tool depend on numbers of subscribers and the billing frequency you choose.
Pro Plan
Monthly
Quarterly
Annually
0-500 Subscribers
$19
$49.00


$16.33 a month

$193.80


$16.15 a month

501-2,500
$29
$79


$26.33 a month

$313.80


$26.15 a month

2,501-5,000
$49
$139


$46.33 a month

$553.80


$46.15 a month

5,001-10,000
$69
$199


$66.33 a month

$793.80


$66.15 a month

10,0001-25,000
$149
$439


$146.33 a month

$1,753.80


$146.15 a month
One might ask if the Free Plan that allows up to 500 subscribers, why would you take out a paid Pro Plan covering the same number?
The answer is in the features made available. The Free Plan allows you to collect subscribers into a list and email them, but it doesn't offer some of the more powerful AWeber tools like automation, split testing, and the ability to create more than one list.
As we explore the various requirements you might have for an email marketing tool, we'll investigate how both versions of AWeber (free and paid) address those needs.
Terms of Use
As with most email marketing platforms, AWeber forbids spam and unsolicited email. Break this golden rule, and your account will be immediately deactivated.
Your list(s) should only consist of email addresses that have explicitly subscribed to you. If you're thinking of buying a bulk email list and then using AWeber to mail those people, then two words – forget it!
Can AWeber Be Used For Affiliate Marketing?
AWeber is known as an "affiliate-friendly" platform when it comes to affiliate marketing. You should be just fine emailing affiliate offers provided you stay within the terms and conditions.
---
Account Management & User Interface
To date, the User Interface for MailerLite is the smoothest we've come across. AWeber doesn't quite reach that level but it's far smoother than many of it's clunky competitors. The Interface is modern, clean and crisp.
The platform is intuitive with tips and help bubbles appropriately placed. You shouldn't get lost around this platform.
Multi-User Accounts
Aweber offers the facility to add additional users to the account using the Team Hub feature. Additional users will be able to log in independently of the account owner. This feature is useful when teams are working on the account or if the account holder wishes to involve third parties.
The Team Hub option is available for both free and paid plans.
Multi-Business Accounts
If you have more than one business or multiple websites, you can use a couple of methods to manage your account seamlessly.
You can set up unlimited websites, domains, and lists for as many businesses as you like on the Pro Plan. It's part and parcel of the membership.
With the Free Plan, you only get one list, so you'll need to use a workaround.
One workaround method is to create separate free accounts for each business and add a common designated user (via Team Hub) to each account with admin privileges. The designated user will then use the "Switch accounts" option to navigate from one business to another without logging in and logging out.
---
Subscriber List Management
Subscriber lists are the foundation of every Email marketing platform. By default, each list consists of rows of names and email addresses.
AWeber allows you to add up to 25 custom fields to capture additional information (I.e., telephone, address).
You also have the option to choose if a list requires double opt-in. Double opt-in means that people added to the list will receive an email to actively confirm they wish to join.
---
Email List Segmentation
Email List Segmentation is the process of arranging people on your list into sub-groups, where the members share the same or similar properties. I.e., Interests, demographics, etc. tags are keywords or phrases that you can use to group subscribers together and assign specific campaign messages to them.
Aweber allows you to do this in a couple of ways. You can create separate lists, or you can tag (label) subscribers. Tags are used so you can target segments of your list for more specific messaging. The latter option (tagging) is more efficient than creating dozens of separate lists.
You are able to create custom tags with both AWeber Free and the Pro Plan.
The following video (created by the Aweber team) demonstrates how to segment your list using tags.
---
Customer Relationship Management (CRM)
Is AWeber a CRM? Using a broad definition of the term, you could suggest AWeber is a limited CRM given that you are using it for some customer relationship management tasks.
However, in reality, it lacks many of the features you would typically expect from a CRM, such as Hubspot, Salesforce, Agile, etc. So, in this context, we would suggest that AWeber is definitely not a CRM.
---
Capturing Subscribers & Integrations
Importing and Exporting Subscribers
Aweber provides features for you to manually add subscribers, capture from web forms and landing pages, or import a list.
Importing subscribers is simple and can be accessed from the "Add Subscribers" page.
Supported formats for the import include .xls, .xlsx, .tsv, .csv, or .txt. You can import upto 65,000 people in one go. Most mailing list tools allow at .csv exports, so it's any easy way to transfer your list into Aweber.
---
Embedded Forms
The Sign-up Forms feature allows you to create forms for embedding in a website. The sole purpose is to capture new subscribers. You can create and design a form from scratch or modify one of the hundreds of pre-designed forms in the AWeber Template Gallery.
Once the form is created, you are provided with Javascript and HTML code to add to your website pages. This procedure amounts to little more than a copy and paste exercise.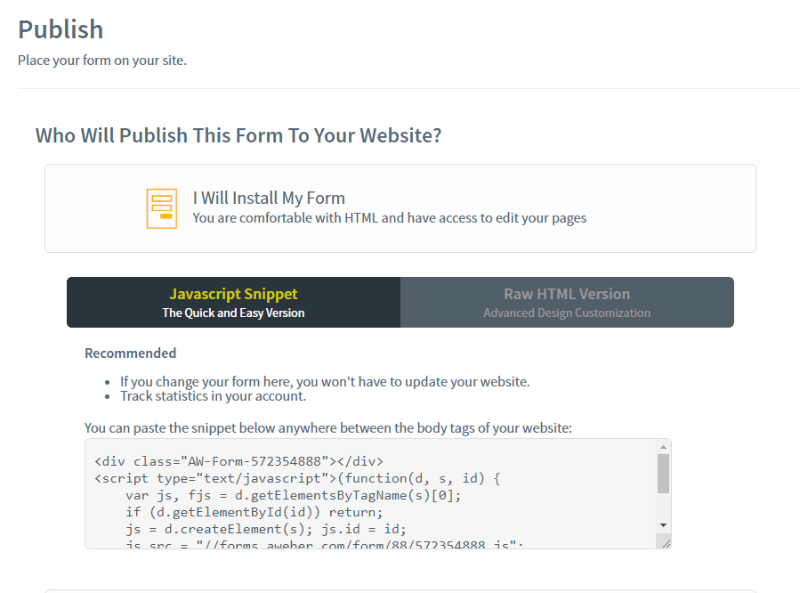 If your website is based on the WordPress platform, then you would paste this code into a Custom HTML block.
---
Landing Pages
AWeber lets you create responsive landing pages easily without the need for design or coding skills. You can build from scratch or use one of the pre-designed templates.
35+ different landing page templates cover the most popular actions you would expect from a custom squeeze page. The "drag and drop" editor is simple to use.
Both free and paid plans give access to the Landing Pages module.
---
Popups
Using largely the same process as Embedded Forms, Popups get created using the Sign-up Forms feature of AWeber. You can create a standard Popup or one with a Lightbox effect. The Lightbox version darkens the background of the screen behind the popup – adding additional focus.
---
Social Media Integration
AWeber integrates with a number of popular social media platforms and this feature is available for those on free and paid plans.
Integrations include:
The following video shows an example of how you can integrate the power of the tool with Facebook.
---
Additional Integration
In addition to social media channels, AWeber integrations are available for many platforms, including popular blogging environments.
Content Management
There are further integrations for CRM, Landing Pages, Lead Generation, Membership Systems, Productivity, Surveys, Video, and Webinar Platforms. Click here for the full list.
---
Email Design & Content
AWeber allows users to create emails from a blank canvas or start with one of the hundreds of pre-designed email templates. The Drag and Drop builder makes the process of constructing emails a breeze.
---
Email Creation and Editing
---
Email Templates
Using templates as a starting point, you'll send engaging emails that are mobile-friendly and look good on any device.
Take your pick from over seven hundred carefully-crafted templates. The Template Library is available to people on both free and paid plans.
---
Sending Emails
Autoresponders
An autoresponder is an email generated and automatically sent to subscribers when they complete an action such as joining a list or completing a form.
Aweber Provides an initial autoresponder feature in the form of a Welcome message delivered to new subscribers.
The Autoresponder feature is available to users on both the free and paid plans.
---
Personalization & Dynamic Content
Personalization and Dynamic Content refers to embedding elements of emails that reflect individual properties of the individual subscriber. For instance – names, email addresses, and custom information that you have collected.
Personalization and Dynamic Content features are open to users of free and paid Aweber plans.
---
Attachments
AWeber allows attachments with your email. This statement may sound like an obvious feature, but surprisingly, some similar platforms don't offer this functionality.
---
A/B Split Testing
A/B Testing (also known as Split testing) allows you to test two different email versions to determine which performs better. The aim is to see which is the most effective for conversions. Typically, you'd analyze the results to improve future email campaigns.
---
E-Mail Blasts
E-Mail Blasts are referred to as broadcasts within the AWeber platform. Broadcasts are perfect for reaching out to your audience with announcements.
Typical examples include a newsletter, event announcements, and promotional messages. Broadcasts can be time-scheduled, and the feature is available to Aweber users on free and paid plans.
---
Delivery by Timezone
AWeber can send emails to subscribers at a specific time relevant to their time zone. The Zone for each subscriber gets determined by their IP address.
---
Sending Limits
The Free Plan is limited to 500 subscribers, and 3,000 email sends per month. The Pro Plan doesn't have limits on email sending; your billing rate is determined by the number of subscribers. Check the pricing page for current billing rates.
---
Auto-Resend
Although we've seen reviews that AWeber provides Auto-Resend, we couldn't find a method other than creating automation that resends an email if it's not opened in a certain number of days.
---
Workflows, Automation and Artificial Intelligence (AI)
Workflow Automation
Workflow automation lets you automate when messages are sent based on the behavior of the target audience. For example, if a reader clicks a specific link in an email or performs some other designated action, the tool can send sequenced messages accordingly.
---
Automated Content Creation & Artificial Intelligence
Automated or semi-automated content creation using artificial intelligence techniques is increasingly apparent in the Email marketing industry. AWeber uses a technology called "Smart Designer," a straightforward AI-driven wizard tool to brand and design emails.
---
E-Commerce
Aweber integrates with a large number of third-party E-Commerce platforms to manage communication with the seller.
E-Commerce Integration
---
The list above shows only the most popular platforms. There are many others. Click here for the full list.
Order Automation
AWeber can integrate with product orders on several e-commerce platforms. For WordPress and Woocommerce, you'll install the AWeber Newsletter Subscription plugin.
With this plugin, you can add customers to lists and apply specific tags depending on what products they purchased. This feature allows you to trigger a sequence of emails related to a specific product purchase.
---
Abandoned Cart
If you run an e-commerce store, you'll probably be aware of the abandoned cart dilemma. A potential customer adds a product or service to their cart, completes their details, and then abandons the purchase. How do you deal with that situation?
AWeber integrates with your chosen ECommerce solution to trigger an automated email sequence to get the customer to return and complete the order.
Somewhere between 50% and 80% of people abandon a cart, so it's worth having this feature to rescue sales.
---
Surveys and Questionnaires
AWeber does not provide survey or questionnaire features. We guess you could create micro-surveys where the answers to a few questions are stored in a list's custom fields, but it's certainly not designed for this.
---
Analytics and Metrics
Interaction Tracking
The Pro version of AWeber allows you to create tailored reports and enable the following tracking:
Track sales that your emails generate
Set up Page Hit Automations so that you can track the webpages your subscribers visit on your website
Configure cart abandonment emails
Remove AWeber branding on your click-tracking links
---
Additional Features
In this section, we'll take a look at AWeber features that might not usually be considered as one of the typical requirements of an email marketing tool.
Web Push
Web notifications are messages that pop up on the user's device. They allow you to interact with users at any time, letting you send tailored messages that are always relevant.
---
If you think we've missed anything worth including, then drop a note in the comments box at the bottom of the post.
---
Are you looking to build a subscriber list?
If you don't have a subscriber list, then you certainly need one. It doesn't matter how many social media followers you have or how you think you can reach them.
Understand this; social media channels can be taken away from you at a moment's notice. Youtube channels with over a million followers have been removed, Facebook pages and groups deleted. You need at least one way of reaching out to your audience through a platform that you control.

AN EMAIL SUBSCRIBER LIST IS NOT A LUXURY! IT IS AN ESSENTIAL.
How much does it cost to start an email list with AWeber?
AWeber allows you to start a subscriber list for free. You don't pay a cent. The free plan can be used until you have 500 subscribers or need to send more than 3,000 emails per month. Until you reach that point, Aweber won't cost you anything.
After you pass the 500 subscriber threshold (or wish to send more than 3,000 emails per month), then you can upgrade to the Pro plans. At the time of writing (March 2021), The Pro plan starts at $16.15 per month. You can check the latest prices on AWeber here. By the time you need a Pro Plan, you should be more than able to afford it!
---
How easy is it to start an email list with AWeber?
AWeber is one of the most intuitive and user-friendly platforms you'll find to start your list. The Free Plan offers an excellent path to building an audience and getting familiar with the tool's more advanced features. The following video illustrates how you can start an account and get your list up and running in minutes.
How to Get Started with AWeber (Vendor Tutorial)
---
AWeber Company & History
AWeber was founded by 21-year-old Tom Kulze in 1998. It's a well-established band and one of the market leaders in email list management with hundreds of thousands of customers.
---
Share on Pinterest