MailChimp is an email marketing platform and newsletter service that helps bloggers and small business owners send newsletters, email campaigns, and manage their subscriber lists.
This post is not a Mailchimp review but a brief summary of the tool and the price plans available.
For transparency, we are not a Mailchimp affiliate or partner and have no business connections with the company.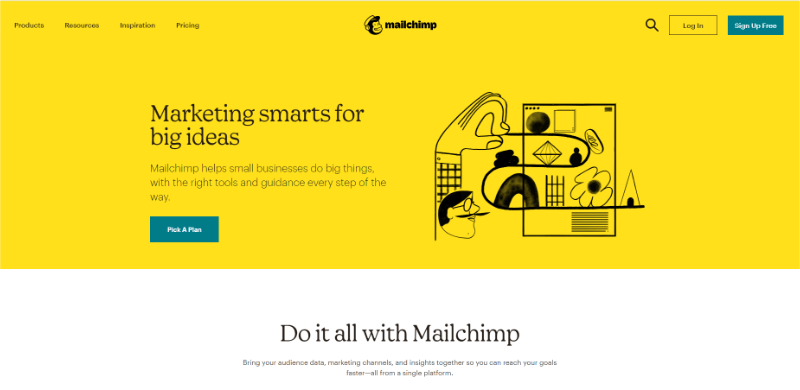 ---
Pricing and Plans
Mailchimp offers four tiers of plan – Free, Essentials, Standard and Premium. The primary differences relate to the numbers of subscribers, number of lists (audiences) and the list of Mailchimp features that you are given access.
The following prices are correct as of March 2021.
Free Plan
$0 / month
2,000 Subscribers
1 List (Audience)
Marketing CRM
Creative Assistant
Website Builder
Mailchimp Domain
Forms and Landing Pages
Essentials
from $9.99 / month
5,000 Subscribers
3 Lists (Audiences)
Everything in Free Plan+
All Email Templates
Multi-Step Workflows
Custom Branding
A/B Testing
24/7 Email & Chat Support
Standard Plan
from $14.99 / month
100,000 Subscribers
5 Lists (Audiences)
Everything in Essentials+
Customer Journey Builder (Workflows)
Send Time Optimization
Behavioral Targeting
Custom Templates
Dynamic Content
Premium
from $299.99 / month
200,000 Subscribers+
Unlimited Lists (Audiences)
Everything in Standard+
Advanced Segmentation
Multivariate Testing
Comparative Reporting
Unlimited Seats & Role-Based Access
Phone Support
Be aware that Mailchimp pricing equates the "from" value with 500 subscribers. The standard plan allows up to 10,000 subscribers, but you'll be paying far more than $14.99 for the privilege. Indeed, 10,000 subscribers on the Standard Plan would cost $540 per month.
---
Mailchimp FAQs
Who owns Mailchimp?
The founders of Mailchimp own the company. Ben Chestnut and Dan Kurzius created Mailchimp in 2001, and the company operates out of headquarters in Atlanta, USA, with regional offices in Oakland, Brooklyn, and Vancouver,
Can you do Affiliate Marketing with Mailchimp?
Affiliate Marketing (as an industry) is prohibited under Mailchimp's Terms and Conditions. Some Affiliate Links are deemed acceptable. The distinction seems rather blurred, so we'd suggest you read the official Mailchimp definition.
---
---