In this post, we take a look at ShareAsale and what it offers for bloggers and social influencers.
If you aren't sure what ShareASale is or how it works, this post is for you.
ShareASale is an affiliate network where you register to find businesses with products or services you can promote. In return, you receive a commission payment for the sales you generate.
The Blog Magazine is supported by its audience. When you purchase through links on our site, we may earn an affiliate commission. Full Affiliate Disclosure.
---
ShareASale Is Affiliate Marketing
The practice of receiving a commission for promoting somebody else's product or service is known as Affiliate Marketing. It's a popular method of generating income for bloggers and social media influencers.
With an affiliate network, we can add an extra dimension to the above relationship. ShareASale acts as a go-between between the online merchants and the publishers (affiliate bloggers and influencers).
In practice, this means you can find thousands of brands, merchants, products, and services all in one place, rather than searching for and dealing directly with merchants individually.
Another advantage of using an affiliate network like ShareASale is that you're paid by the network rather than tracking sales with different merchants.
Awin (formerly known as Affiliate Window) owns ShareASale.
Useful Affiliate Marketing Links:
---
Opportunities
The ShareASale affiliate network currently includes over 4,500 merchants ranging from "mom and pop" businesses to global corporations.
If you blog about any of the following topics, you'll be well-served.
Automotive
Art, Music & Photography
Auction Services
Books & Media
Business
Careers & Jobs
Clothing
Commerce/Classifieds
Domain Names
Education
Family
Financial
Food & Drink
Freebies
Games
Gaming & Lotto
General Web Services
Gifts
Gourmet
Green
Health
Home & Garden
Insurance
Legal
Marketing
Military
Moving Supplies
Online Dating
Real Estate
Recreation
Search Engines
Shopping Malls
Sports & Fitness
Travel
Web Hosting
Webmaster Tools
Weddings
---
How Do You Make Money with ShareASale?
Once approved as a publisher (affiliate), you can apply to join any of the affiliate programs offered by the 4,500+ merchants who are in the network.
Typically, you're most likely to apply to programs that relate to your niche subject area.
You make money by generating sales or some other specified action (i.e., generating a lead) for the merchant.
Let's walk through a typical process to clarify how this is done.
---
Example: The Health and Wellbeing Blogger
As an example, let's assume you are a blogger who creates content related to the health and wellbeing niche.
Searching for merchants who offer health products is a simple process that you can conduct in one of three ways:
By Category
Keyword Search
Advanced Filtered Search
By Category
Finding affiliate programs by category is a breeze. Click on the category you wish to inspect from the left-hand sidebar.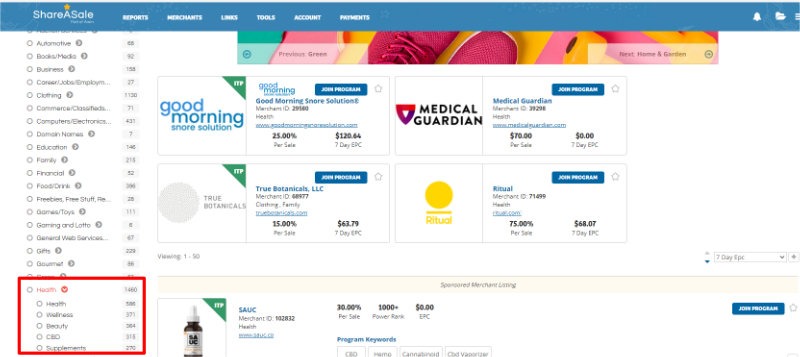 Categories break down into sub-categories. In this case, you can see 1,460 Health Affiliate Programs split into smaller niches such as Wellness, Beauty, CBD, and Supplements. The "View More Keywords" gives an even bigger breakdown.
Keyword Search
As you would expect, a keyword search returns all affiliate programs from all categories that match the term entered in the search box.
In the example shown, a search for the term Vitamins returned 329 affiliate programs.
Advanced Filtered Search
The Advanced Search is accessed via the "Modify Search" button. You are able to apply a range of filters to narrow down the results set.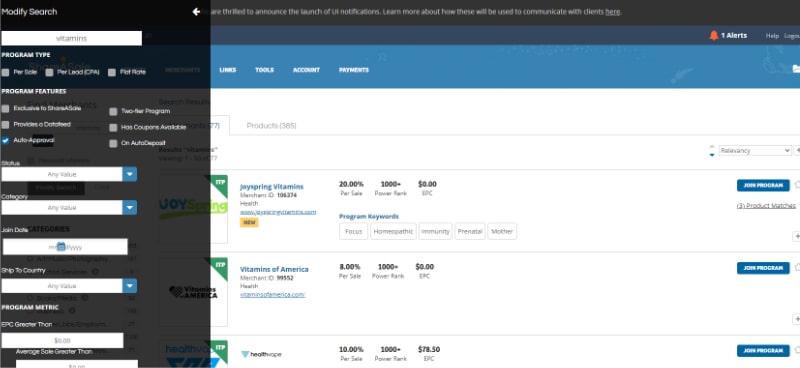 In this example, we created a filter for merchants selling vitamins. An additional filter was added to return only those merchants who automatically approve all applicants to their affiliate program. Fifty-seven vitamin sellers came back in the results.
Let's view an affiliate program, break down the numbers and explain the terminology. The program we'll use is courtesy of Microbiome Plus+, one of the Vitamin sellers we found on the search.
>> Click for the Direct Link to the Affiliate Program on ShareASale.
Starting at the top-left, we can see Microbiome Plus+ offer a 35% commission on any sales generated from your promotion.
For instance, if you wrote a blog post about the effectiveness of Vitamin D, you could include a hyperlink to Microbiome Plus+. If the reader clicked on the hyperlink and made a purchase, then you'd get 35% of the sale.
Down the left-hand side, you'll see some basic information about the merchant.
Merchant Info:
Program Status: Online for 88 days.
Last Offline: 15th August 2020.
Active Since: 18th November 2016.
Auto-Approval: Yes
Desktop Percentage: 57.14%
Mobile Percentage: 42.86%
What this information tells us is that the company is well-established on ShareASale, having been around since 2016. They last paused their affiliate program in August 2020 and restarted again.
The Auto-Approval means that any ShareASale Affiliate will be accepted automatically.
Finally, the sales generated are slightly more from desktop users than mobile. (57.14% to 42.86%).
Sales Stats (Last 30 days):
Average Sale: $54.80
Average Commission: $25.43
EPC: $21.61.
Conversion Rate: 0.85%
Cookie: 15 days
Product Datafeed: 42.86%
Last Transaction: Yesterday
Auto Deposit: YES
Power Rank: 1000+
This data is telling us that the average sale made to a referred customer is $54.80 and the average commission paid to an affiliate is $25.43. This figure is higher than the 35% reward rate, so we'd hazard a guess that the merchant pays out bonuses for high-performing affiliates.
EPC stands for earnings per click. In practice, this means affiliates earn $21.61 per 100 clicks on their affiliate link. The figure represents an average for all affiliates in the program.
The Conversion Rate of 0.85% is the percentage for Clicks vs number of sales.
Cookie Days reflects how long your referral is valid. If a user clicks on your link, then if they purchase anything from the store during the cookie life, then you are credited with the sale. In this case, if one of your referrals buys something in 15 days, you get a commission.
The Last Transaction lets you know when the merchant last got a sale from an affiliate.
Auto Deposit states that the Merchant auto-deposits monies to ShareASale when they are running low.
Power Rank indicates where this Affiliate Program ranks in ShareASale. There are over 4,500 merchants in total.
---
Who Can Join ShareASale?
Anyone can apply to join ShareASale, but you must have a website. The website you provide will be visible to individual merchants when you apply to join their affiliate programs.
Without a website, you won't get past the first stage of the application process.
---
How Much Does It Cost To Join?
ShareASale costs nothing for affiliates to join. No financial investment is required.
---
How Much Do You Get In Commissions?
The amount varies depending on the individual affiliate program you join. Some merchants pay fixed amounts (bounties) if you refer a customer who makes a purchase; others will pay a percentage of the sale.
---
When Do Affiliates Get Paid?
Affiliates choose a payment "threshold". The figure can range from $50 to $1000 US Dollars. Once you pass the threshold on commission earnings, payment is typically made within 1-3 working days.
---
How Do Affiliates Get Paid?
Payment options include Payoneer, Direct Bank Deposit, Check, and Wired Deposit. The availability of these options depends on your location.
---
How To Sign Up As A Publisher (Affiliate)
Joining ShareASale is straightforward, and we'll run through the steps you need to get started.
---
Further Information
ShareASale was founded in 2000 as an affiliate network and became part of the Awin network in 2017.