Understanding how the relationship between content and how search engines work can help improve your blog's visibility.
Nobody wants to spend time writing content that isn't getting seen. If you're struggling to get your work in front of an audience or want to boost your visibility, then this short course might be a perfect fit.
Eric Enge's Role of Content course is short, but there is zero fluff, padding, or bloat. It's straight to the point.
At the Blog Magazine, we like to put one of our team through the course to do a full review. Owen took the course and shared his thoughts.

In a nutshell:

It's a good course – Concise, Professional and not very long. Eric Enge has a pleasant manner and gets straight to the point.

What did I learn that was new? Well, I learned more about the E-A-T SEO concept, The Google Search Quality Raters Guide (not something I was previously aware of), and 'Your Money Or Your Life Queries.'

I must also mention some hidden gems in the Expert Tips section from London-based SEO Expert Deepak Shukla. He's contributed videos on getting Guest Posts from high-ranking websites, getting into journalism networks, and he also demonstrates methods of syndicating your content.

These videos are especially useful as Deepak doesn't just waffle about it; he shows you how to accomplish a task practically – step by step.

Owen, The Blog Magazine
As an added bonus, the course costs nothing. Oh, and you'll also get an Official Semrush Academy Certificate when you complete.
The Blog Magazine is supported by its audience. When you purchase through links on our site, we may earn an affiliate commission. Full Affiliate Disclosure.
---
Creating Material to Feed Needs
SEO guru and Semrush Academy Tutor Eric Enge leads the course. Eric will guide you through the concepts of marrying good content, links and SEO to improve your website's visibility and increase conversion rate.
10 lessons – Exclusive video lessons with digital marketing expert Eric Enge
Learn the basics of SEO content in just 1 hour
The course is 100% free. Save your money and use it on your own SEO efforts and future marketing activities.
Official Certification
Course completion gives you official Semrush Academy certification. The SEMrush toolset is used by 1 in 4 Fortune 500 companies and over 6 million users. You are learning new skills at no cost and picking up respected certifications along the way.
---
Role Of Content Course Syllabus
The course is supposed to last an hour, but we found in practice that you'll easily spend more time than that – especially if you start trying the techniques and testing the concepts as you go along.
Lesson 1. The basics of SEO content
You'll dive into the basic points of SEO content, learn the course structure, and know what to focus on while improving an SEO strategy.
Lesson 2. What is E-A-T and how important is it?
Eric will explain the basics of the E-A-T concept, teaching you how content depth can impact your SEO success. You'll also learn the meaning of Your Money or Your Life (YMYL) queries.
Lesson 3. Why content is important for SEO
You will learn how you can use content to effectively drive SEO, discover why users' needs are important to track, and analyze your digital marketing campaigns. Eric will also share practical cases to demonstrate to you how the amount of quality content published affects online visibility.
Lesson 4. How users' needs impact content depth
You'll discover how users' needs impact the depth and breadth of the content on your website, and explore how the query and the true needs (query intent) are connected. After this, you will also focus on the importance of UX in SEO strategy.
Lesson 5. The basics of links and PageRank
You will get an understanding of the basic aspects of links and PageRank, diving deeper into the interconnection of content strategy and link relevance.
Lesson 6. The evolution of SEO ranking factors
You explore case studies and get insights on how links can improve rankings and discover what signals inform Google about content quality.
Lesson 7. Backlink analysis
Eric will show you how to do backlink analysis with Semrush. Moreover, you'll learn how to analyze links and research your competitors' backlink profiles to get content ideas.
Lesson 8. Link relevance
In this lesson, Eric will guide you through the understanding of why link relevance is so important. As a result, you'll also find out what types of links are worth acquiring and what content is link-worthy.
Lesson 9. The power of informational content
You'll discover the benefits of informational content, getting insights on page speed and learning the basics of added-value mindset and how to implement it in your content strategy.
Lesson 10. The basics of links and PageRank
In this lesson, Eric will bring you deeper into the world of hubs and blogs. You'll discover the best places to publish your content and learn about categorized tag pages and search engines' priorities when ranking and indexing content.
---
Official Certification
Upon completion, you are eligible for Official certification with the SEMrush Academy. Semrush certification comes with real Kudos as their SEO toolset is used by one in four Fortune 500 companies, SEO Experts, Web Developers, and 6 million users.
THE COURSE IS CURRENTLY FREE – GET CERTIFIED!
---
Related Links
All Courses Index
Freebies For Bloggers
---
Share on Pinterest
Help Others By Sharing Our Pins!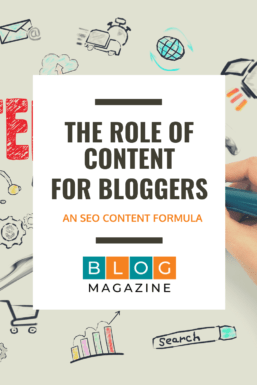 ---