What is the best blogging platform? Well, if you ask ten people the question of how to choose the best blogging platform, you'll get a bunch of different answers. Typically, they tell you what works best for them.
It's a play on one of those age-old subjective questions like "What is the best car?"
Are we asking for the fastest car? The most reliable car? The best value car?
The reality is finding out what is the best fit for you. Are you seeking an affordable platform? An easy-to-use platform? A scalable platform to add extra functionality further down the track?
Your ideal blogging platform will depend on your aspirations. Firstly:
What are your goals?
And how much can you afford?
Picking a platform without having an honest conversation with yourself could result in a scenario of the Tail wagging the Dog.
Once you've figured out your requirements, you'll be in a better position to decide what platform will suit you the best.
Here are some things to think about before you pick a blogging platform.
---
Questions To Ask Yourself Before Choosing A Blogging Platform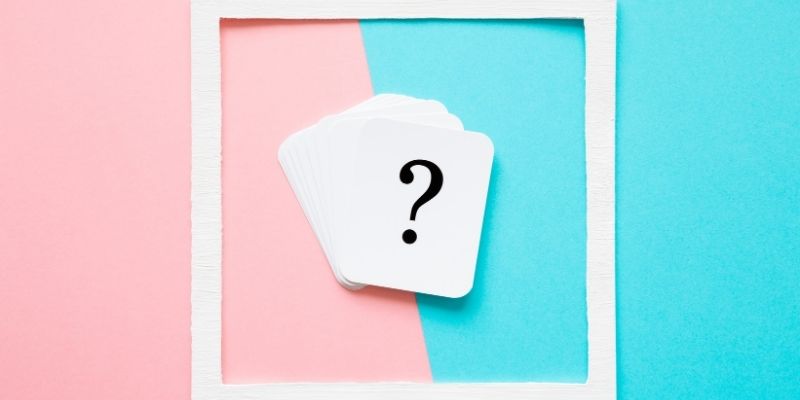 Here are a few questions to ask yourself before choosing a blogging platform. Answering these honestly may save a lot of time further own the track.

What is your niche?


Your "niche" refers to the subject category you are creating content for.

Popular niches include:

– Business, Jobs, and Careers
– Entertainment
– Finance, Wealth and Making Money
– Food and Drink
– Gambling and Gaming
– Health, Fitness, and Nutrition
– Lifestyle
– Politics
– Relationships and Dating
– Religion
– Tech
– Travel and Tourism

Many successful bloggers do the same thing. They drill down to a specific niche. A great way to build traffic, grow your email subscribers, and brand awareness is to find smaller niches and carve them out, focusing on specific topics. For example, Travel and Tourism is an example of a vast and broad topic. A blog devoted to Travel in Ireland would be a specific niche. Camping in Ireland would be narrowing down specific topics even further.

Why does niche matter when considering a blogging platform? For a start, some topics may be sensitive and carry some risk on proprietary platforms.  See our next question.


Could the content you expect to write be deemed sensitive or controversial?


Are you blogging about Politics, Religion, or Current Affairs? Health? Alternative medicine? Could your blog content be considered controversial? It's an important question to ask.

The de-platforming of accounts is an increasing pattern, and don't make the mistake of thinking that this is only limited to political or religious bloggers. 

There are growing instances of content creators promoting alternative therapies, and CBD falling foul of terms of service.

If in doubt, choose a self-hosted option for your blog. It carries much less risk.


What type of content will you be posting?


Consider the type of content you are going to post and what blogging platforms allow.

– Are you going to be posting mainly text content?
– Will you be posting embedded multimedia such as video or music?
– Are you going to be including affiliate links in your blog posts?
– Do you require a commenting system so that readers can respond to your work?

Make a list of the types of content that need to be supported.


Will you be monetizing Your Blog?


Monetizing is a nice way of saying making money from your blog.

There are numerous opportunities to monetize (make money) from blogging.

Examples include:

– Advertising Revenue (hosting Ads on your blog)
– Affiliate Marketing
– Direct Sales (Digital and Physical Products) with E-Commerce
– Selling Courses
– Offering Consulting Services.

Do you plan on making money from your blog? Though it may not be immediate, think about the long-term.


How are your technical skills?


Are you confident with IT? Or a complete technophobe?

Sometimes people pick the platform that gets them up and running the most quickly. This approach is a double-edged sword.

Yes, strike while the iron is hot, but don't do this without appreciating your capabilities to learn new skills.

A more powerful scalable platform giving you full control and the ability to add extra functionality may be worth the slightly higher learning curve at the outset.

The question is, will your chosen platform support your future aspirations?



What budget (if any) do you have to start blogging?


The budget you have available is another factor when choosing a blogging platform.

It is possible to start blogging without a budget. Platforms offering free and paid plans are available. However, where possible, it is advisable to get a unique domain name of your own at the very least.

Some platforms also offer a Pay-As-You-Go service where you pay smaller amounts in monthly increments.

For example, you can get the full power of self-hosted WordPress using Cloudways web hosting and pay just $10 per month on an ongoing basis– a figure that's slightly more than many other WordPress hosts advertise but the cheaper hosts often request payment for 1-3 years upfront.

We've made a shortlist from the most popular platforms in use today. Your skill level, budget, and goals should help you make an informed decision on which is the best for you.
---
Self-Hosted WordPress (via WordPress.org)
WordPress is a hugely popular open-source Content Management System (CMS) used to manage blogs and websites. It's been around since 2003, so had plenty of time to evolve and grow into the incredibly powerful, popular and versatile system that we see today.
As of 2021, it powers nearly 40% of all websites, and over 64% of those using a Content Management System.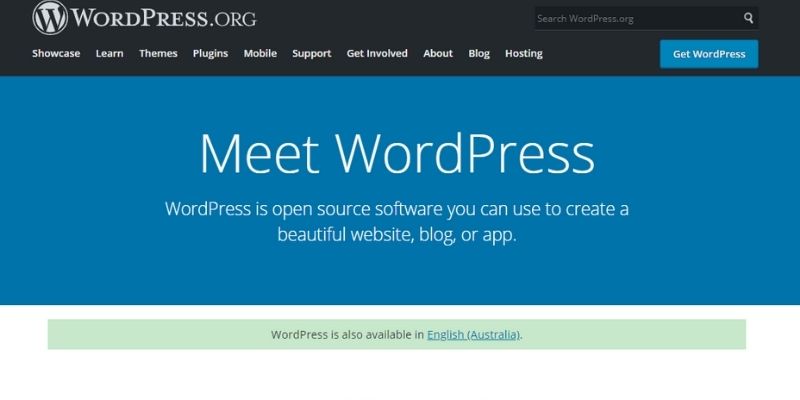 It's important to make the distinction between the self-hosted WordPress software from WordPress.org and the proprietary blogging platform that is WordPress.com.
Before we go any further, let's clear up any confusion between Self-Hosted WordPress (via WordPress.org) and WordPress.com.
The following definitions should make things clearer.
Definitions of WordPress:
1) WordPress is software. More specifically, an open-source content management system.
2) WordPress.org is the website where you can find and download the WordPress software. The site also acts as a repository for themes (to style your website), plugins (to extend the power of WordPress), and documentation.
3) The definition of Self-hosted WordPress is where you take the WordPress Software from WordPress.org and install it on a server under your control.
In practice, this is much easier than it sounds. If you purchase web hosting with companies such as Cloudways, SiteGround, Bluehost, Dreamhost, etc., they automate this process with just a couple of button clicks.
4) WordPress.com is a website that hosts a proprietary blogging environment operated by Automattic. WordPress (the software) runs on the platform, but it's a restricted version of the software, and you won't necessarily be able to install plugins or themes of your choice.
So, when people refer to WordPress.org v WordPress.com, they are actually comparing the self-hosted version (usually on a commercial web hosting account) against a trimmed down more restrictive version on WordPress.com.
See more here – What's the difference between WordPress.org and WordPress.com? for a more detailed explanation.
---
Why choose Self-Hosted WordPress?
EASY TO SET UP
Most companies provide simple installation instructions for WordPress.

Self-hosted WordPress is a beneficial tool to use if you want to start a blog. Cloudways now gives you 72 hours to test out and play with the software free of charge.

You can even experience WordPress without a credit card, as your account is free for the first three days.
Design Flexibility with Themes
A theme is a collection of templates, scripts and style sheets that control the appearance of your site.

There are 4,000 free WordPress themes within the WordPress.org repository.

If you still can't find a design to match your goals, you can also search through many thousands of options from commercial providers.
THE POWER OF PLUGINS
WordPress plugins allow you to extend the functionality of your website.

For example, WordPress doesn't come with e-Commerce built-in, but you can easily add it through a plugin such as Woocommerce.

There are thousands of WordPress plugins available for free at WordPress.org and additional paid plugins from commercial vendors.
MONETIZATION
There are no restrictions on monetizing your website (other than the laws of your land).

Selling CBD Oil or Hemp products? No problem. Talking about Politics or Health? No problem. Affiliate Marketing? The floor is yours.

As long as you operate within the confines of the law. You are in control.
COMMUNITY
The WordPress community is as big as the software is popular. You can find many groups and support channels to solicit help from all corners of the web – Stack Overflow, Facebook Groups, Slack Channels, Reddit, Telegram Groups, forums, and many more places.

WordPress.org also includes an active forum with regular contributors. Tips, tricks, tutorials, and solutions are never too far away.
SCALABILITY
WordPress scales well and powers everything from tiny blogs through to the websites of corporate giants such as Techcrunch, CNN, Microsoft News Centre, and The Walt Disney Company.

According to BuiltWith, 35% of the Top 10,000 websites run on WordPress.
Set Up Self-Hosted WordPress In Minutes
Try Self-Hosted WordPress for a few days without commitment
Cloudways offer the ability to self-host your WordPress site without any setup or coding knowledge. The invitation is to try Self-Hosted WordPress on Cloudways for 3 days. If you continue thereafter, you pay $10 each month on a Pay-As-You-Go basis while you use the service. No contracts. Start small, play around and make it your own.
---
Blogger
Blogger (also known as Blogspot) is a blogging platform owned and operated by Google. Initially developed by Pyra Labs and launched in 1999, they sold to Google in 2003, and Blogger has been under their stewardship ever since.
Blogger integrates with your Google account, so it's straightforward to get started.
All you need to do is head over to https://www.blogger.com and choose the "Create New Blog" option.
You can then choose a free subdomain to give your blog an address. i.e., yoursitename.blogspot.com or you can pay extra for a top-level domain name, i.e., yoursitename.com, and point it at your blog.
Blogger does not have the scalability or flexibility of WordPress. For instance, you can't add features like stores, member areas, portfolios, events, or any functionality that the power of WordPress plugins brings to the table.
However, it is easy to use as a simple blogging platform and a great starting point for those with zero or little budget.
---
Why choose Blogger?
EASY TO SET UP
Blogger is easy to use, and you can customize your blog with templates and layouts.

The choice of templates isn't on the same level as WordPress, Wix or Squarespace but it's still more flexible than most platforms.
FREE
There are no financial overheads other than the optional cost of registering a top-level domain name.

You can also enable Google Adsense to earn small revenues from the blog.
COMMUNITY
The Blogger platform has been decreasing in popularity but the user base is still large enough to support various groups, forums and channels.

You won't find it difficult to find answers to your questions and engage with fellow
LOW MAINTENANCE
Blogger sites are very low maintenance. The infrastructure is owned and managed by Google.

All you need to do is worry about content creation.
The Cons:
We wouldn't recommend Blogger for business bloggers or those wishing to monetize their blog, but it's certainly worth considering for hobbyist blogs where additional functionality is not a requirement.
---
Wix
Wix is a website-building platform with a blogging facility. The company was founded in 2006 by Vishai Abrahami, Nadav Abrahami, and Giora Kaplan.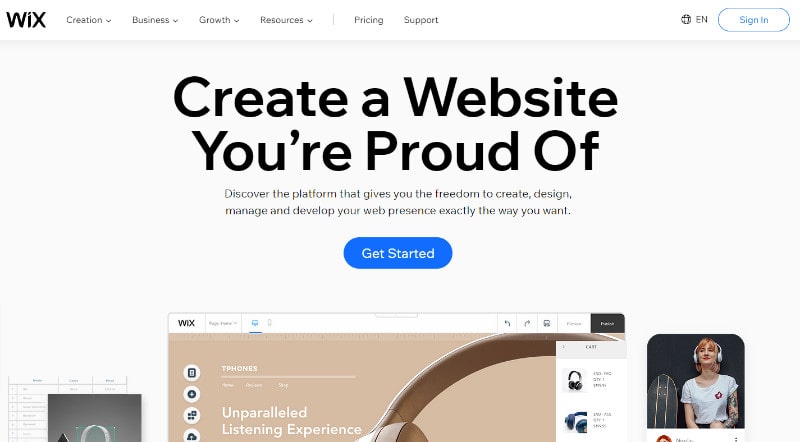 The growth of Wix has been rapid. To date, Over 180 million people have used the platform to create a free website. Around 4.5 million of that number have a premium account.
Wix users enjoy an intuitive, easy-to-use interface to drag and drop elements to build web pages. There are over 500 pre-designed templates you can use to start your blog.
You can extend the standard Wix platform with additional apps from the Wix Apps Market. Examples include an Online Store and Online Scheduling Software. Unlike Self-hosted WordPress, many of the apps come at extra cost.
---
Why Choose Wix?
EASY TO SET UP
With Wix, you can have a website including a Blog up and running in minutes. Answer a few questions, and the Wix ADI (Artificial Design Intelligence) will create a personalized website with custom text and images. Of course, you can tailor this with your unique touch.

Alternatively, you can build the site from scratch.
500 TEMPLATES + INTUITIVE BUILDER
The Wix platform comes with over 500 professional templates that you can customize with an intuitive drag and drop website builder.

You can add video backgrounds, scroll effects, and animation to energize your web pages.
FREE + PREMIUM PLANS
You can start a Wix website and blog on a free plan although you can't connect your own domain and the site will be littered with ads served by Wix.

For serious blogging, the premium plans are a must.
EXTENSIBLE
You can add functionality to your Wix website by installing apps from the Wix Apps Market. There are over 250 free and paid apps, including stores and scheduling.
CUSTOMER SUPPORT
Wix offer good customer support. The Wix Support Center has many videos, tutorials and demos available to help you.

The company offers a ticketing system and Live Chat for support. There is also a sizeable community of fellow Wix site owners.

GOOD HOSTING
Wix sites are low maintenance. The hosting is owned and managed by Wix. In speed tests, the Wix hosting performs well.

All you need to do is worry about content creation.
The Cons:
There is no doubt Wix has evolved a lot over the last few years and a strong contender when selecting a blogging platform.
---
WordPress.com
WordPress.com is a proprietary blogging environment operated by Automattic. WordPress (the software) powers the platform.
In practice, this means you take out an account with WordPress.com, and they host your WordPress website.
WordPress.com offers a range of plans, but it's important to note some of the features of the WordPress software are restricted. For instance, you only have access to a limited number of plugins and themes. On the free plan, you have no access to plugins.
As you pay more for premium plans, more features are unlocked.
---
Why Choose WordPress.com?
EASY TO SET UP
WordPress.com websites are easy to use, and you can be up and running with a few clicks.

WordPress.com handles most web building requirements, including eCommerce, social integrations, and mobile presentation.

FREE AND PAID PLANS
With the free plan, there are no financial overheads other than the optional cost of registering a top-level domain name.

Paid premium plans unlock extra functionality. With the WordPress.com Business or eCommerce plan you can search for and install external plugins.
COMMUNITY
WordPress.com comes with good support and tutorials. The platform has an online knowledgebase for users

WordPress.com blogs feed into the WordPress Reader App. This is a community within itself.
LOW MAINTENANCE
WordPress.com sites are very low maintenance. The infrastructure is owned and managed by WordPress.com and they take care of updates, maintenance, and security.

All you need to do is worry about content creation. WordPress.com offers email and live chat support for all paid users.
The Cons:
---
Squarespace
Squarespace was founded by Anthony Casalena in 2004 while studying at the University of Maryland. From those humble beginnings, it has grown into a company employing over a thousand staff.
Squarespace has a 2.5% market share for websites running a content management system. Like Wix, you can set up your blog with a simple Q&A wizard.
The design templates are sleek and professional, but the choice is more limited than you get with Wix and far lower than self-hosted WordPress.
---
Why Choose Squarespace?
EASY TO SET UP
Similar to Wix, Squarespace has a wizard that will build your initial website following a few questions and mouse clicks.
PRO TEMPLATES
Squarespace provide a good range beautiful templates to get started with your new blog.
EXPORT FACILITY
Unlike Wix, Squarespace does allow you to export the website. You can do a data export or integrate with Git.
LOW MAINTENANCE
Squarespace plans include hosting, updates and security.

24/7 Technical Support is available via a ticketing system and the Live Chat.
The Cons:
---
The Best of the Rest
Outside of the usual suspects, there are plenty of other options to consider before selecting a blogging platform. The following picks are all viable contendors.
Weebly
Ghost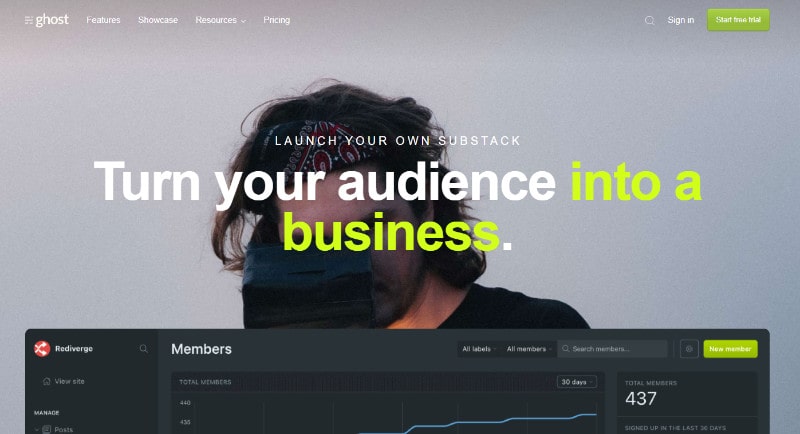 ---
Tumblr
Medium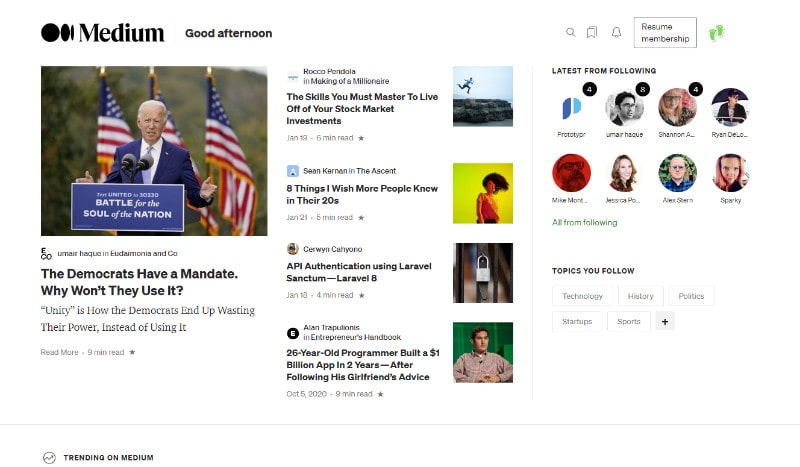 ---
Joomla
Write.as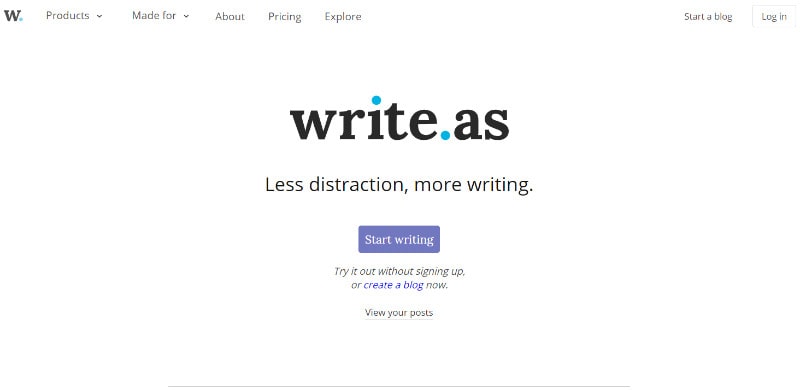 ---