We've put together a compilation of affiliate networks that you (as an affiliate) can join to monetize your website, blog, or social media channels. There aren't enough affiliate networks to put together a real directory, but we've worked to produce a comprehensive list.
Remember, each affiliate network connects you to hundreds and sometimes thousands of affiliate programs. Let's begin with some of the most popular ones that sit well with Bloggers.
The Blog Magazine is supported by its audience. When you purchase through links on our site, we may earn an affiliate commission. Full Affiliate Disclosure.
---
ShareASale
The ShareASale affiliate network currently includes over 4,500 merchants ranging from "mom and pop" businesses to global corporations like Semrush, Grammarly and Namecheap. The network is owned by, and part of AWIN.
If you apply to join ShareASale, there is not automatic acceptance into the network. Your application gets reviewed, and then you are contacted if accepted or denied.
It's important to note that you must have a website to complete the application form. See our tips and walkthrough on Joining ShareASale for further information.
Depending upon your location, you can enable commission payments through Direct Deposit, Mailed Check, Wired Deposit or Payoneer.
---
Awin
AWIN has over 15,000 advertisers for affiliates to market. It's one of the largest affiliate networks in the world for affiliate marketers. Browse the profiles of every advertiser in your industry or region. You can apply to join and promote products and services you love.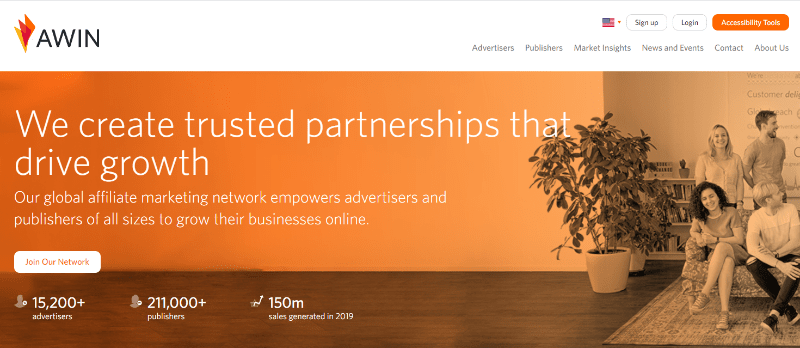 AWIN charges you a small fee to apply (around 5 dollars), but they reimburse you after you process your application. The purpose of this is to filter out bots and less committed affiliates.
---
CJ Affiliate
CJ Affiliate is the biggest global affiliate marketing network. Millions of businesses use its services to find affiliates that will promote their brands or products.
The platform offers a suite of tools to link up with merchants and check out their products and services. There is an extensive network of affiliate marketing programs, so you'll likely find a long list of offers to promote.
Signing up for CJ Affiliate is a simple process, but then you'll need to apply to individual merchants. Some merchants will approach you to promote their programs.
---
Rakuten
Rakuten is the top affiliate marketing network for a variety of categories including fashion, travel, finance, electronics, and education. Rakuten is ranked the #1 affiliate network for its comprehensive selection of brand partners.
You need to apply to join the Rakuten network and they review your application pending approval. Once accepted by the network, you can apply to promote the products and services of specific merchants.
Rakuten have a huge range of merchants covering virtually all sectors.
---
Impact Radius
Impact Radius offers an Intermediary Platform that enhances profitability by connecting content creators directly to merchants. Founded in 2008, it is one of the larger affiliate networks.
As with most affiliate networks, once accepted, you apply to each merchant individually and fill out their separate affiliate program application.
Retail and Computer Software are two of the larger segments on the network, but pretty much every niche is covered.
---
FlexOffers
FlexOffers is a network of affiliate programs and offers content creators access to 12,000+ affiliate opportunities. The platform gives affiliates 50% of the revenue they generate.
Affiliates can choose from over a million products and 12,000 affiliate programs for those they want to promote on blogs, websites, and social media accounts.
A dedicated account manager is on-hand to help affiliates effectively promote campaigns.
When you sign up for FlexOffers, the compliance team will verify your channels to ensure they're a good match for the FlexOffers network.
---
SkimLinks
Meet Skimlinks, the content monetization platform. Skimlinks is partnered with an incredible 50+ online content and affiliate networks and provides solutions for driving sales from your website using content.
SkimLinks generates commissionable links from your web content automatically, freeing you to spend time creating content for your audience.
---
JVZoo
JVZoo, founded in 2011, is a platform that connects sellers with merchants online by providing marketing and sales automation. The network also offers tools to help your business sell online.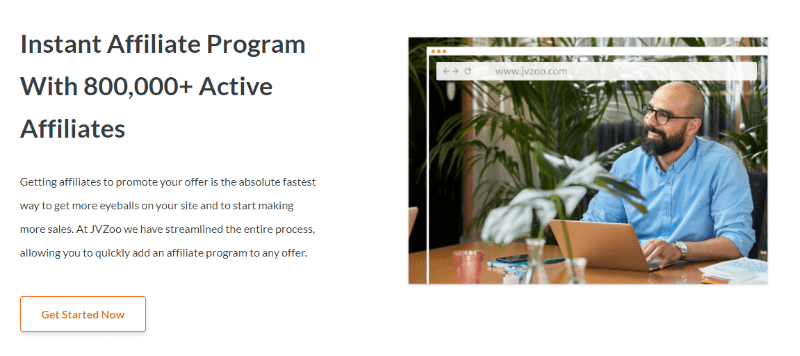 Anyone can join the JVZoo network and start applying to partner with merchants right away. Once accepted, affiliates have access to hundreds of merchants to promote. JVZoo is a global affiliate network that links affiliates and merchants from across the globe. The vast majority of products to promote are of digital format.
---
ClickBank
The granddaddy of affiliate marketing networks, Clickbank has been around for years. Well, since 1998 to be exact. The network works exclusively with digital products, but merchants usually offer affiliates a generous commission for referring shoppers.
Acceptance to the ClickBank affiliate network is automatic. Once you've signed up, you can instantly begin searching for the most profitable products to promote. The global affiliate network is servicing merchants and affiliates from many countries.
---
MaxBounty
MaxBounty offers a variety of ways to earn, including CPA (Cost Per Action) and CPL (Cost Per Lead) campaigns. Popular categories for affiliates are dating, diet, finance, real estate, personal finance, social games, and more.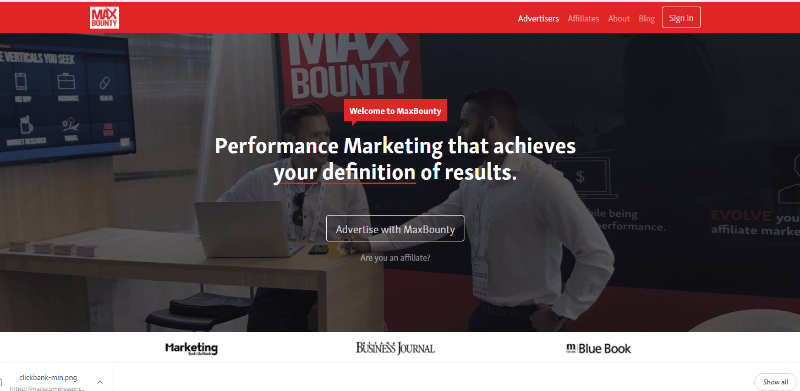 MaxBounty doesn't just accept any affiliate. Eligible affiliates must talk personally to one of the network managers about their experience and plans before they can join. The telephone or Skype call takes place before you become approved.
Having a website with some traffic helps, but the affiliate network managers are human, and if you can put forward a solid case to join, then you've always a chance.
MaxBounty's Unique selling point is that they pay out the highest commission rates.
---